Winning Motivation
August 21, 2007
WINNING THE SECOND BILLION TOGETHER!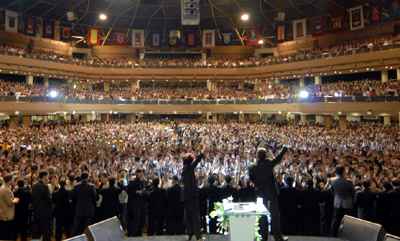 God has raised up great churches all over the world. Here, see Evangelist Reinhard Bonnke minister to a crowd of 40,000 in Muslim-populated Surabaya, Indonesia at Gereja Bethany Church, built by Pastor Alex Tanuseputra.
Dear World Class Leader,

The Second Billion is bringing the Best to the Rest worldwide! The greatest churches in the world cannot on their own win the world. The Second Billion movement is about all of us — large organizations and small; individuals and ministries — working together and adding value to each other.
"The strength of a team is in each individual member. The strength of each member is in the team." That's Synergy!

Can you imagine what a billion motivated Christians could do in a day? A month? A year? Completing the Great Commission is about motivation. We have enough Christians, enough time, talent and resources in the Kingdom of God. We will finish the Great Commission when we are all motivated toward the same goal!
A billion motivated believers could win the Second Billion and reach every unreached

people group sooner than we realize. Winning the Second Billion is about doubling the Church in the next ten to fifteen years in order to position the Church globally to finish the Great Commission faster rather than slower.
We do not have to wait until a special event comes to our area. We can experience the greatest event possible today: Win a lost person to Christ and heaven will celebrate with you!

H. B. London has suggested that every church light a candle on the altar each Sunday that a lost person is won the previous week. Would a week go by without the candle being lit?
Let's get motivated!
Breaking News

Where can I meet Pastor Sunday?
Eastern Seaboard pastors can meet Pastor Sunday of Kiev, Ukraine, who pastors the largest church in European history, on August 21-22, Bridgeport, Connecticut! For more information call (770)384-8265.

CONFIRMED SYNERGIZE Speaker!
Dr. Isaac Wheigar of the Wesleyan Church, Liberia, will make a presentation to the SYNERGIZE! Pastors Conference! How do you continue to spread the Gospel in a war-torn country? Dr. Wheigar will tell us how the Good News has helped bring peace to his West African nation!
SYNERGIZE! is 35% full!

"I'm a typical pastor who juggles leading my church, family and team. I have been to one of these conferences before. This time, I want my team to catch the vision with me! Early registration for five people right now was roughly $200, but later it would be $800 or more. Because we're in a building program, I registered fast! I highly recommend this conference to you!"
— Pastor Charles Tuttle, Dallas, Texas
Pre-registration has just opened for $49 per person. Bring your whole team to the SYNERGIZE! Pastors Conference January 29-31, 2008, Atlanta.
FREE SYNERGIZE Registration!
The pastor who forwards this email newsletter to the most people this week will receive FREE REGISTRATION to SYNERGIZE! Pastors Conference.

Join the Second Billion Movement
You can download the Second Billion Medallion today FREE and join great leaders and churches from all over the world!
Website Congratulations!
Featured church website of the week:
www.reallifecc.org
Check it out!
Soul-Winning Series
REINHARD BONNKE
"Full Flame Film Series"

German evangelist Reinhard Bonnke has ministered to millions throughout Africa for almost 40 years. His home base is now in Florida.
FullFlameMovie.com is a great resource to turn congregations members into motivated evangelists!
Evangelist Reinhard Bonnke, through his Full Flame series, captivates the heart of believers and moves them toward evangelism.
"Church leaders around the world have grasped this idea that a film series can stir a passion for the lost," Bonnke said recently.
The seven-episode film series includes a dramatic introductory short film, "Lost at Sea," in which passengers on a ship refuse to help those drowning in the waters around them. Each episode combines conversational teachings with short film allegories and brief dramatic segments that punctuate the teachings.
In addition to the DVDs, each Full Flame Film Series set includes 4 facilitators' guides and 48 small group participant guides, a CD of worship music to accompany the series, and materials for promoting the series at the local church. Visit www.fullflamemovie.com or call 1-800-239-7000 to order your set today!
No single organization or person can fulfill the Great Commission alone. But, we each must take individual ownership and strive to obey Christ's command to go and preach the Gospel to all nations. It is the last zero in the 1,000,000,000 that compounds value to everyone else. Ownership is not about being first, but about serving everyone. Thank you for being part of the Second Billion movement!
Many Blessings,
Your Second Billion Team!