A Multiplying Church Model for You
December 5, 2007
WINNING THE SECOND BILLION TOGETHER!
Sunday Adelaja, author of the upcoming book CHURCHSHIFT, due out February 8, and James O. Davis, launch the CHURCHSHIFT ministry in Ukraine last Sunday.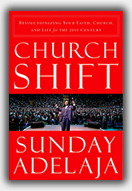 Dear World Class Pastor,
Holiday Greetings!
The new book, CHURCHSHIFT, debuting at the SYNERGIZE! Pastors Conference, provides the model for church life that caused the explosive growth of Embassy of God Church in Kiev, now over 100,000 strong after just 12 years. Pastor Sunday Adelaja's revolutionary approach to expanding the influence of the Kingdom of God through the local church has brought about national transformation in Ukraine.

The Second Billion movement is working to identify the best methods and models worldwide, in order to help pastors lead multiplying churches, so the goal may be reached to plant five million new churches for a billion soul harvest.
At Embassy of God, people start filling the front row seats an hour before service, and jam the rented sports hall twice each Sunday. Twice each year, in July and December, roughly 2000 members and international guests take part in a fasting and prayer retreat for 10 days.
The book, CHURCHSHIFT, will be accompanied by a workbook for small group study, that trains church leaders and members to work harmoniously to use Kingdom principles to change culture. You may secure your copies of the book and workbook on Amazon.com or at your local bookstore on February 8.
Breaking News
Pastors' Wives
Pastors' Wives are signing up for SYNERGIZE! Pastors Conference to participate in Power Sessions with leaders including Nina Bronner, Bose Adelaja, Bev Mortlock, Lynn Mathison and Debbie Lindell. Be sure to sign up your wife today!
PASTORS WIVES POWER-SESSIONS
WED & THURS 2-5



Concerned about education? Accelerated Christian Education has over a million self-motivated, goal-oriented alumni who demonstrate its academic excellence. A diagnostic test places a child in his or her appropriate curriculum for each subject, then gives the child responsibility and accountability for learning. Required subject mastery reinforces honest achievement. Check ACE out online or meet with them at the SYNERGIZE! Pastors Conference.
Join the Second Billion Movement
You can download the Second Billion Medallion today FREE! Join leaders in dozens of countries who are using this medallion to keep the vision in front of them!
Pastors Coaching

In order to reach our personal Promised Land, there are "Three Battles We Cannot Afford to Lose" and must overcome. When God starts something, He will finish it. Download this message for your own benefit, or share it with those to whom you minister!
How much do you weigh this holiday season? Before you go to your scale, please know that many people think that they weigh too much. Yet, according to God's Word, most people do not weigh enough on God's scales of justice. As we complete this year and enter into the new year, we need to have a spiritual growth plan. When we do not eat physical food, our bodies become hungry; but when people do not eat spiritual food, they will eventually not be hungry at all. Let's be sure to stay spiritually hungry and weigh enough in the eyes of the Lord. Blessings!
Until the Last Person Has Heard,

James O. Davis
COCHAIR/Global Networking