Why Win A Billion People
April 2, 2008

Working independently, Christianity will rapidly accelerate, but will not catch up with population growth to fulfill the Great Commission for hundreds of years. By working together to win a billion people to Christ in the next season of years, we will do what no other generation has done—Our children, or their children, will see the Great Commission completed by 2100!
Dear Visionary Leader: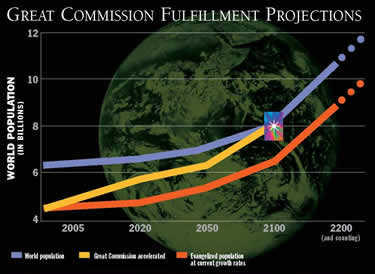 Kiev, Ukraine Greetings! The Church has entered into a defining period of time, as to whether or not we will finish the Great Commission by 2100 A.D. We may be small when alone, but we are powerful when we work together!
A modern axiom states, "If you like someone, you may give your time and money, but if you love someone, you will give your friends." Long-lasting shared friendships will produce greater productivity, partnership and purpose in the years ahead. The late Dr. Adrian Rogers used to say, "A net is a lot of little nothings tied together." The value of our net-worth is found in our net-work.
Recently I met a leader who figured out how to win the world, but forgot one important fact: population growth. At present, more than 1.8 billion people have never heard the Gospel, which is more than 27% of the world population. At the current rate of Christian growth versus world population growth:
In 2025, there will be more than 2 billion people who have never heard the Gospel.
In 2200, world population will exceed 10 billion and unless the Church multiplies faster than today, the unreached will number 1.7 billion people. More people will have the Gospel, but 16% will still be in darkness.
At the present rate of growth, it will be 2500 A.D. or later before the Great Commission is fulfilled.
By planting five million churches for a billion souls to come to Christ, the Church will double its size and shorten the timespan of Great Commission fulfillment before 2100 A.D.
Over the next 14 months, our Second Billion Network will conduct 12 Best To The Rest Summits, each designed to achieve the following:
Challenge the Church to double in size over the next season of years, through planting five million churches for a billion soul harvest.
Connect key churches via Internet for global training capacity.
Collect the best resources and make them available worldwide. The cry of leaders worldwide is that the best resources are needed in order to finish this global task.
Commit to unreached people groups in each world region.
Choose a Cochair for every nation, territory and province.
Collaborate on the best methods, models and minds for multiplication movements.
Only 6,000 key pastors and leaders will be able to participate in these international summits. If you have interest in attending one of these strategic regional gatherings, please register quickly. At the present time, hundreds of leading pastors and leaders have come together in Kiev, Ukraine for our Eurasia Summit. During our time together we will discuss and develop the best ways to achieve these overarching outcomes.
Some time ago, newscaster Paul Harvey told the story of how an Alaskan Eskimo went about catching a wolf. He would take a long knife blade and alternately dip it into blood and freeze it until there was a large amount of frozen blood on the knife. He would then place the knife on the ground with the blade positioned upward. In time, a wolf would come by and begin licking the blood-covered blade. After licking all the frozen blood off the knife, the wolf would continue licking the sharp blade; only this time he was tasting his own blood. Soon the wolf would die from the loss of his own blood and would be captured.
We have come to a door of opportunity where we can shorten the timespan of Great Commission fulfillment and save untold millions from the horrible death of sin. We can achieve this together as we continue to build the largest pastors network in the world. Be sure to join us at one of the Best Of The Rest Summits before it is too late.
Until the Last Person Has Heard,


James O. Davis
COCHAIR/Global Networking