Learning to Succeed in the Right Things!
April 20, 2008
WINNING THE SECOND BILLION TOGETHER!
Peter Mortlock is the Second Billion Co-Chair for Australasia. He will be hosting the "Down Under" Best to the Rest Summit on March 3-4, 2009. For the list of 2008 World Regional and U.S. Best to the Rest gatherings, go to www.BestToTheRest.org

Dear Visionary Leader:
After I ministered at Liberty University's Chapel several years ago, a student handed me a note and said, "Please read this on the way to the airport."
Once in the car and headed to the airport, I read the note and

learned one of the greatest principles in life. The note read as follows:

"Dr. Davis, I want to have God-given success in my ministry. I believe this kind of success means learning to succeed at the right things and not succeeding at the wrong things. Failure means succeeding at the wrong things."
All of us will succeed at something in this life. We will either succeed in the wrong things or in the right things. I am most grateful for that young man speaking into my life and for Liberty University, a school that has no doubt trained more students for ministry than any college in the world.

As I minister 47 weeks on average each year, I encourage others to spend time with the right people and in the right place in order to become the right person. Faith is taught and caught through the daily responsibilities of our lives. In the final analysis, we have to turn vision into reality.
Last August I was fortunate to minister for Pastor Peter Mortlock in Auckland, New Zealand. Over the last 25 years, the Lord has used Peter and Bev to develop and deploy a God-given vision throughout New Zealand and other strategic parts of the world. Peter took me on a tour of City Impact Church. The Lord has given Peter the ability to mobilize volunteers for the fulfillment of vision. I encourage you to click here and learn from Pastor Mortlock regarding the empowerment of volunteers in your local church. To multiply our God-given vision, we have to grow our leadership base.
Breaking News
Striking Oil in Houston!
On March 11, 2008, the first SYNERGIZE! Best to the Rest Leadership Summit is coming to Houston, Texas! Featured presenters include Leonard Sweet, Walter Kaiser, Sunday Adelaja, Paul Cole, Ben Lerner, Gary Hawkins and Doug Stringer. For only $39 you can join us for this one-day training opportunity. Bring your entire team of four or more for only $117, plus spouses! Visit the website for more details. We will strike oil in Houston!
Rev! Magazine Partnership
Each issue of Rev! Magazine delivers reliable insights and inspiration to lead a healthy church. Practical coaching and challenging perspectives help you navigate today's dynamic church culture. PLUS, effective tools and techniques for more than a dozen ministry tasks, roles, and positions help you nurture and develop your leadership teams. These partners in the Second Billion hope you will subscribe today to get this must-read resource for pastors!
Join the Second Billion Movement
You can download the Second Billion Medallion today FREE! Join leaders in dozens of countries who are using this medallion to keep the vision in front of them!
Pastors Coaching
FAITH FROM OUR FRIENDS
During the SYNERGIZE! Pastors Conference, a few important global awards were bestowed on distinguished leaders. The "Lifetime Achievement Award" was presented to Dr. John R. Corts, whose life, legacy and leadership value continues to compound on an annual basis worldwide. Dr. Corts provided world-class leadership for Amsterdam '86 and Amsterdam 2000, with more than 11,000 evangelists, pastors, authors and denominational leaders from 217 nations. For nearly six years now, Dr. Corts has worked closely with us in this global vision.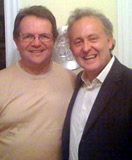 Evangelist Reinhard Bonnke is one of the greatest visionary leaders of our time. In the last ten years, he has witnessed more than 45 million people come to Christ through his crusades. Two years ago this month, I was privileged to hear the praises of more than 600,000 people in an open field and witness more than one million come to Christ outside of Abuja, Nigeria's capital. Just over a year ago, Reinhard completed a remarkable soul-winning training series entitled, "Igniting A Passion For The Lost."
I encourage you to obtain a copy today!
If we live to succeed in soul-winning, then we are living for what Jesus died for. Dr. Billy Graham many years ago stated, "You will never find a U-Haul attached to the hearse on the way to the cemetery." We will leave all of our earthly possessions here and take what we have become to the throne of God. May we pray for labors to be sent into the global harvest field today!
Until the Last Person Has Heard,



James O. Davis
COCHAIR/Global Networking