5 Million Churches For A Billion Soul Harvest By 2020!
April 10, 2014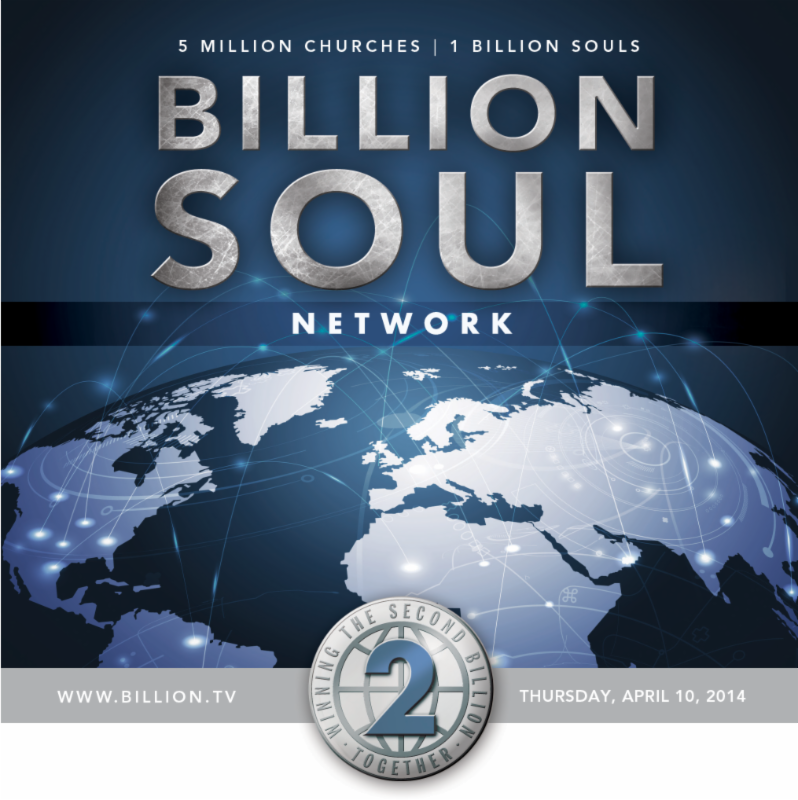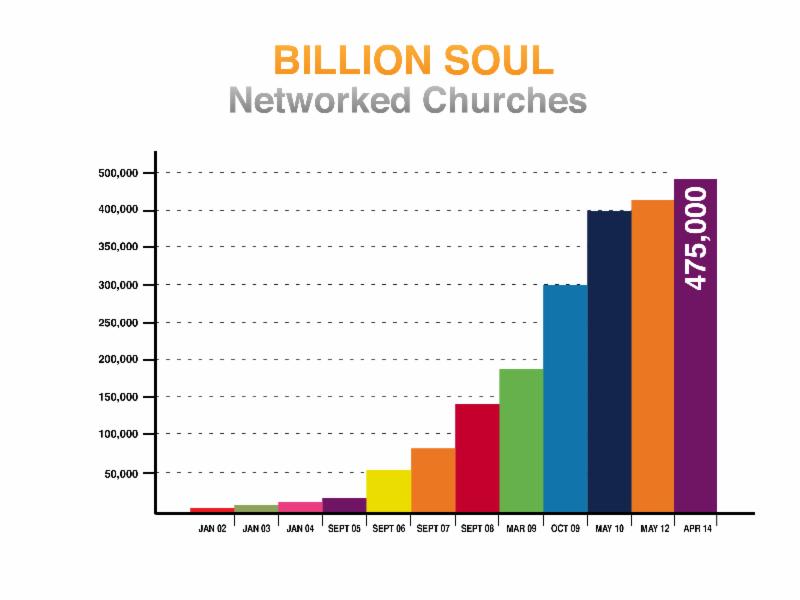 Dear Visionary Leader:
The words of Dr. Alex Abraham, CoChair/Unreached People Groups, "God is transforming the graveyard into a vineyard" summarizes what our risen Lord is accomplishingthroughout the earth! Our Lord is bringing life where once there was death. I stand back in awe when I hear the testimonies and read the stories of phenomenal awakenings in many of the hardest places in the world.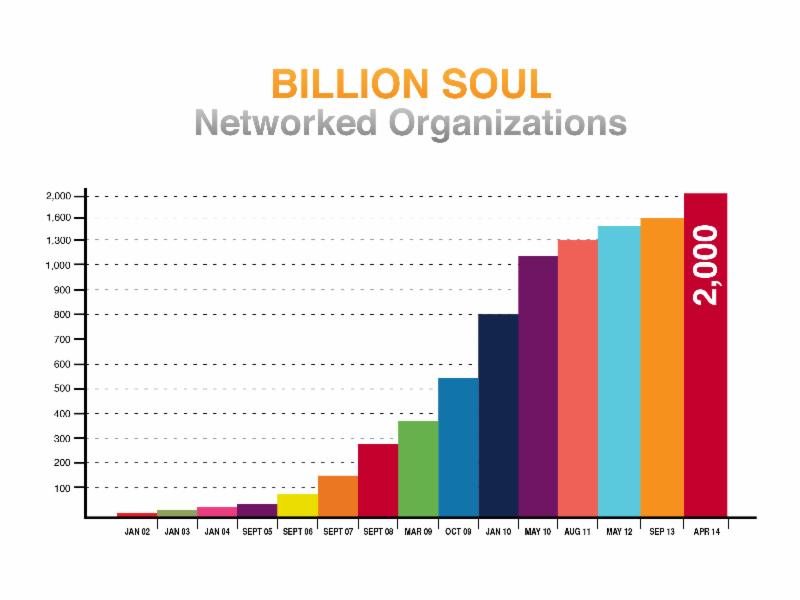 In September, 2005, approximately 500 Christian leaders from 71 nations gathered in Dallas, Texas, to formalize, fashion and forecast the Billion Soul Initiative. We began addressing our roles and advancing our goals to double the size of the global Church in the next ten to fifteen years. In
order to achieve this, five million new churches would need to be planted for a billion soul harvest by 2020. Since that time much progress has been made toward these actualized goals in our generation time. Today, we are grateful to announce that there are now more than 2,000 Christian organizations and denominations synergizing their efforts together toward doubling the size of the global church to help fulfill the Great Commission in this century. Since our first meeting in September, 2005, 588,691,000 have come to Christ and 2,606,816 churches have been planted worldwide!
I am often asked what are the steps to doubling the size of the global Church and for the planting of five million new churches for a Billion Soul Harvest. I believe that this can be best answered through our latest Billion Soul Video. Take three minutes to watch it and then pass it on to others. It will build your faith!


NETHERLANDS LEADERSHIP ROUNDTABLE:
On May 28, 2014, the Netherlands Leadership Roundtable will convene in Amsterdam, Holland. Elmer Towns, Cofounder of Liberty University and James O. Davis will equip pastors leaders from throughout the Netherlands. The longterm goal is to develop a powerful Global Church HUB for this region.
For further information contact Peter de Leau at pastor@emmanuelgemeente.nl

INDONESIA BILLION SOUL SUMMIT:
On June 3-4, 2014, a major Billion Soul Summit will convene in Jakarta, Indonesia. Pastor Alex Tanuseputra, Founder of Bethany Church, in Surabaya, Indonesia, and James O. Davis are hosting this enormous event. Approximately 15,000 pastors and leaders are expected to attend. The speakers include: Kenneth Ulmer, Peter Mortlock, Elmer Towns, Leonard Sweet, Eddy Leo, Mark Balmer, Alex Tanuseputra and many more. Please pray for this enormous gathering of pastors and leaders from throughout Indonesia.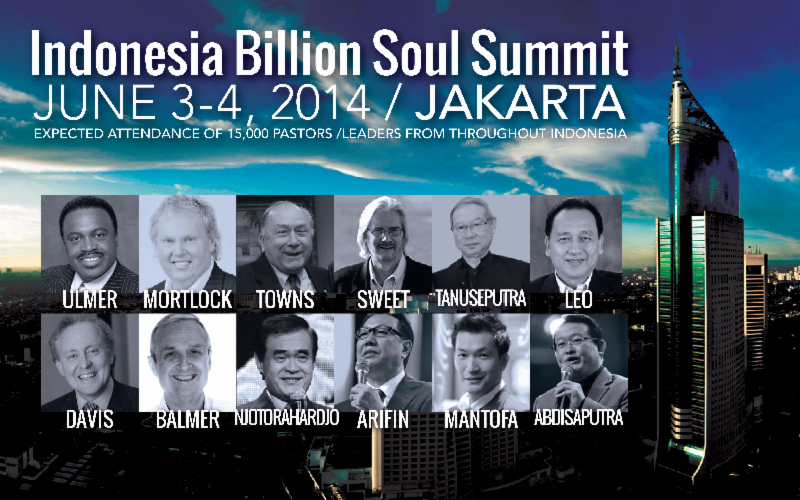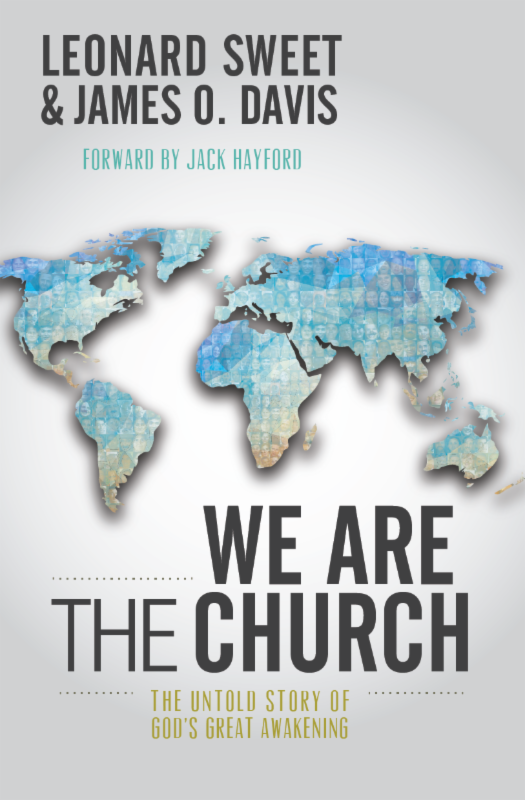 Leonard Sweet and I have recently completed a book entitled, We Are The Church: The Untold Story Of God's Great Awakening. We plan to release this Spirit-empowered book in the United States in May and in Indonesia in 2014. This is the least bookish book you will ever read. At a time when most missiology texts are written from high altitudes of theology and theory, bearing the same relationship to genuine mission that channel-hopping and watching tv do to real life, this book is drenched in the spring showers, summer storms and winter doldrums of ground zero, the sights and smells from the front lines and fox holes of mission. Each chapter is living witness to how "the mission field has become the mission force," in words from this book by J. Hudson Taylor IV.
In the West, it seems the voice of revival is like the whistle of a train that stopped running years ago but which you think you sometimes hear faintly on the far side of the valley. In the East and South, the voice of revival is like a train coming out of a tunnel, hurtling down the tracks, coming at you with all its force and power, inviting you to climb aboard or get out of the way. I believe when you choose to read this untold story of God's global awakening today, you will be inspired to believe for greater outcomes in your life and ministry than ever before. The Name of Christ is shouted from the highest mountaintops and lowest valleys. Their stories proclaim God's praises from these pages.
We are on target to witness five million new churches for a billion soul harvest to take place by 2020. The best is yet to come! Blessings.
Until The Last Person Has Heard,


Dr. James O. Davis
Cofounder / Billion Soul Network
Cochair / Global Networking