Suliasi Kurulo's Life Story: From The Ends Of The Earth
June 17, 2014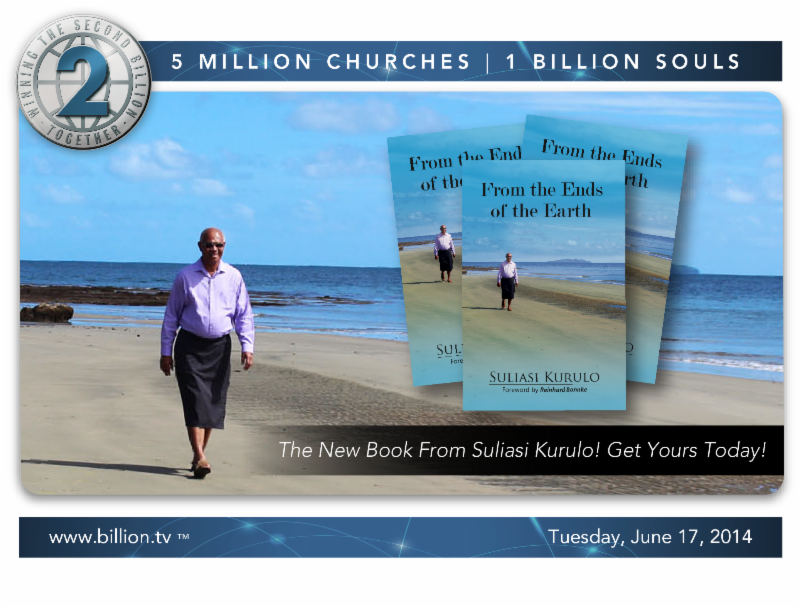 Dear Visionary Leader:
Billion Soul Greetings! Dr. Suliasi Kurulo is the epitome of a pastor who has taken seriously and literally the fulfillment of the Great Commission. This statement is not to imply or infer that other pastors and leaders are not achieving phenomenal outcomes in the world today. In fact, a lot of their stories make me often feel like I have not gotten out of bed as they literally impact their respective worlds with Christ!
Just think about this: In the last 24 years, through the visionary leadership of Pastor Kurulo:
Every Fijian home has heard the Gospel on more than 300 islands
All 22 Oceania nations have been impacted, even in the most difficult areas
More than 5,000 churches planted in 110 nations, primarily among unreached people groups
The words of Dr. James Hudson Taylor IV continue to echo in mind: "The mission field has become a mission force." I often say, "We are moving from parenting to partnering. It is no longer the West going to the Rest, but the Best around the world going to the Rest of the world."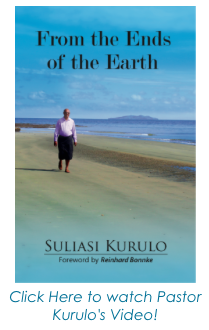 In latest book, From The Ends Of The Earth, Suliasi writes:
In 1991, I had a dream that one day we would plant a Bible believing, Christ centered, Spirit-filled and mission minded church. I had a dream that we would own land and build churches. I had a dream that we would build a World Class Bible School where we would train and equip workers and send them to the mission fields around the world. I had a dream to build a Christian radio and television station. I had a dream to have a Christian printing press, build primary schools and secondary schools and a university. I had a dream to plant churches in every nation on earth. I had a dream that we would raise up millionaires in the church to fund the end time harvest. I had a dream to develop a need-oriented ministry that ministers the Word of God effectively to the needs of the community. I had a dream that one day the church would be totally debt free, that we would not be a borrower from any person or bank but only be a lender and a blessing to the ends of the earth. Every day we are getting closer to that end.
Listen in Suliasi's own words as to where the Global Church is going in the next few years. This pungent video will enlighten you about the future and build your faith at the same time. From The Ends Of The Earth will move your heart, mind and spirit to believe our Lord for supernatural outcomes in our personal lives. This book is a must for every Kingdom-minded leader today who wants to know where the Global Church is headed this century. I believe every Christian should purchase this book and ten more copies for their closest friends! Visit www.SuliasiKurulo.com to get your copy today!

NORTH AMERICAN ROUNDTABLE ON BIBLICAL PREACHING
Convening on January 20-22, 2015, in Melbourne, Florida. Dr. Kenneth C. Ulmer, Senior Pastor of Faithful Central Bible Church, Los Angles, CA, Dr. Mark Williams, General Overseer for the Church of God, Cleveland, TN, and Dr. James O. Davis, Cofounder of the Billion Soul Network, will be the three distinguished teachers. Only 18 seats remain for this historic gathering of pastors and leaders who wish improve their preaching skills in the 21st Century. Register today and makes plans to attend the North American Roundtable On Biblical Preaching in winter, 2015, in sunny Florida! www.preach.tv
BILLION SOUL PUBLISHING
We are thrilled to offer you the global power of network publishing! Billion Soul Publishing harnesses powerful relationships in order to bring the finest resources to the Global Church today. Without a doubt, Billion Soul Publishing brings the author and the world together from the first day his/her book is released into the marketplace. Every pastor or leader can turn their manuscript into a global book in just a matter of months! We are here to assist you and to make it harder for someone to live on the earth and to have not heard the Gospel of Jesus Christ. Visit www.billionsoulpub.com today!
WE ARE THE CHURCH: THE UNTOLD STORY OF GOD'S GLOBAL AWAKENING
We Are The Church by Leonard Sweet and James O. Davis was released at the Billion Soul Summit in Jakarta, Indonesia. This global book officially made its debut in Indonesia before in the United States. Jack Hayford states, We Are the Church makes revolutionary and powerful statements we all need to hear and lessons that need to become fixed in our minds, so as to ensure the impact of the Church for the future. As we move forward together in the mission that God has for all of us, there can be no doubt that if the Great Commission is ever to be realized in any generation to come, it will take the collective Body of Christ to fulfill it. Click here to secure your copy today!
BILLION SOUL SUMMIT: SANTIAGO, CHILE
On July 3-6, 2014, a Billion Soul Summit will convene in Santiago, Chile. Senior Pastor Eduardo Duran Castro, First Pentecostal Methodist Church and James O. Davis, Cofounder, Billion Soul Network, will host this strategic summit. The First Pentecostal Methodist Church continues to be one of the largest and strongest churches in the Body of Christ today. Hundreds of pastors and key Christian leaders will synergize their efforts together for the equipping of leaders for church planting, networking and missions. Elmer Towns, Cofounder of Liberty University will also bring keynote teachings to all of the leaders of this world region.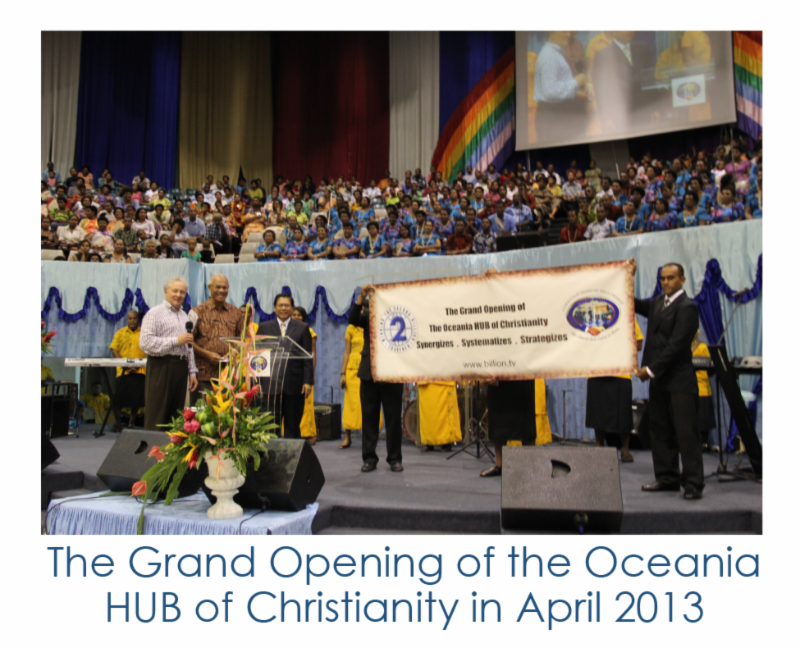 In April, 2013, I was fortunate to minister again at Pastor Kurulo's annual missions convention. His annual missions convention has become the largest event each year throughout the Fijian Islands. I have often said to pastors, "If you would like to see one of the greatest missions conventions in the world today, pack up and go to the World Harvest Center, Suva, Fiji. During this missions convention, we synergized our efforts together to launch the Oceania HUB Of Christianity. A Global HUB synergizes the best relationships, systematizes the best training and strategizes for the unreached people groups in the region.
As we move into the second-half of 2014, I challenge you to:
Move from production to reproduction.
Measure your life toward the fulfillment of the Great Commission.
Motivate your fellow-leaders and friends to pray for the unreached peoples of the world.
Maximize each day as it was your last one on the earth.
Manage your treasures effectively.
Maintain a good pace, as this is a marathon and not a 100 meter sprint.
Multiply your life through writing articles and books.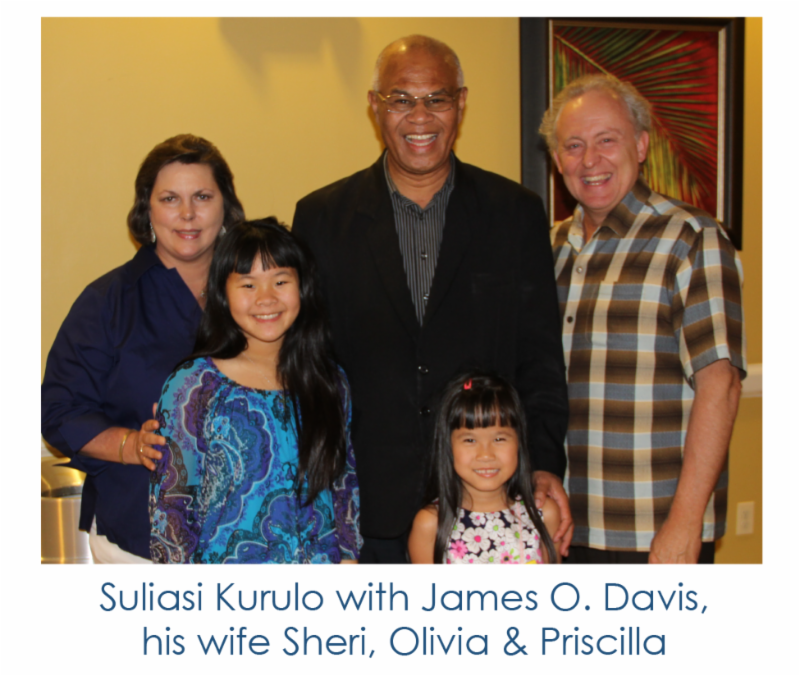 On Father's Day weekend, while Suliasi was ministering in Orlando, my wife, Sheri, Olivia, Priscilla and I were able to visit with him. It was a joy to hear his latest plans and missionary stories. When Dr. Leonard Sweet and I were writing, We Are The Church we highly featured the life and ministry Pastor Kurulo and the World Harvest Center.
The Finish Line is within this generation's reach. More than 100,000 are coming to Christ each day. Let's turn decisions into disciples and move from adding to multiplying as fast possible. Blessings.
Until The Last Person Has Heard,


Dr. James O. Davis
Cofounder / Billion Soul Network
Cochair / Global Networking