The Chile Report: 100 Years Of Powerful Revival
July 8, 2014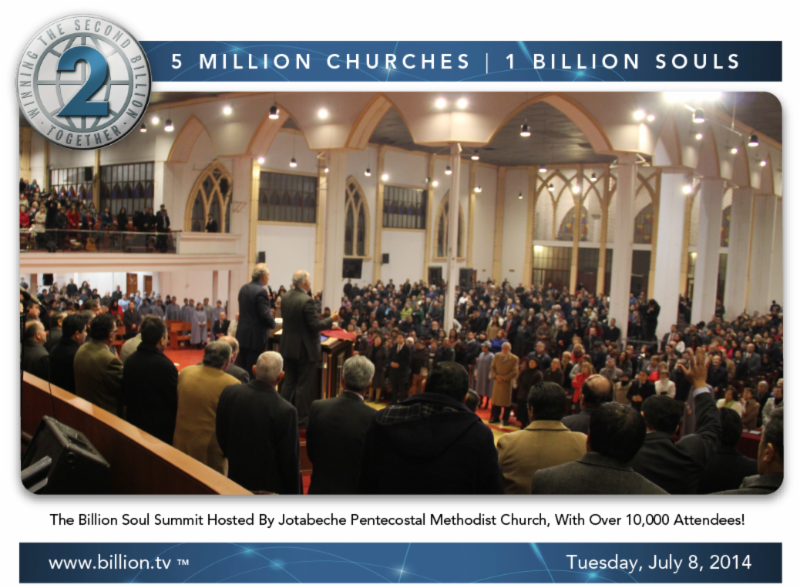 Dear Visionary Leader: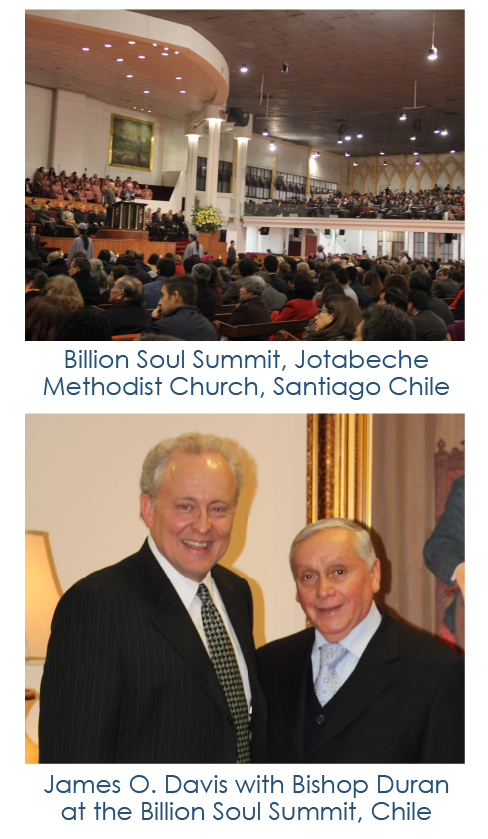 We are most grateful for God's great grace that was demonstrated during the recent Billion Soul Summit at the Jotabeche Pentecostal Methodist Church in Santiago, Chile. The Lord gave us the honor of ministering to about 1,000 pastors (Friday & Saturday), 2,000 Sunday School teachers (Saturday evening) and approximately 10,000 on Sunday evening. The orchestra consists of 850 instruments, with a choir of 150 voices.
Dr. Elmer Towns, Cofounder of Liberty University and CoChair/Dean of GCLC, Bishop Castro Duran, Senior Pastor of Jotabeche Pentecostal Methodist Church and Dr. James O. Davis, Cofounder of Billon Soul, brought practical presentations to all who attended the meetings. Plans are now underway to connect the Global Church Learning Center to all of the pastors and teachers of Chile. Our networking goal is to make the GCLC available to least 2,500 pastors and teachers in the months ahead. Bishop Duran videotaped his GCLC course and it will become available later this year.
In 1909, the power of the Holy Spirit invaded the Jotabeche Methodist Church. When this "Spirit-baptism" happened, there were only thirty-five members. Within three years, more than 20,000 people were members of the Jotabeche Methodist Church! Over the last one-hundred years, this church has continued to grow, there are now 540,000 members and 1.6 million attendees! Dr. Elmer Towns states, The Jotabeche Pentecostal Methodist Church is the second largest church in the world. If you want to know what our Lord is up to, then look at who He is raising up and you will know what He is up to!

GLOBAL CHURCH LEARNING CENTER MEMBERSHIPS: SIGN UP TODAY!
The Billion Soul Network is committed to offering the finest ministry training resources. Every paid membership empowers BSN to scholarship five pastors/leaders in developing countries.

WE ARE THE CHURCH: THE UNTOLD STORY OF GOD'S GLOBAL AWAKENING
We Are The Church by Leonard Sweet and James O. Davis was released at the Billion Soul Summit in Jakarta, Indonesia. This global book officially made its debut in Indonesia before in the United States. Jack Hayford states, We Are the Church makes revolutionary and powerful statements we all need to hear and lessons that need to become fixed in our minds, so as to ensure the impact of the Church for the future. As we move forward together in the mission that God has for all of us, there can be no doubt that if the Great Commission is ever to be realized in any generation to come, it will take the collective Body of Christ to fulfill it. Click here to secure your copy today!

Over the last ten years, I have been asked repeated, "Why is the church growing so fast in certain areas of the world and not in other areas? I have thought about this spiritual phenomena on many different occasions. Is it because of the lack of training or education? It is because of the lack of cutting edge technology? Is it due to the lack of latest music or the best singers or the finest buildings? I believe the answer is quite simple, why there is great growth in many regions and not outstanding growth in other regions.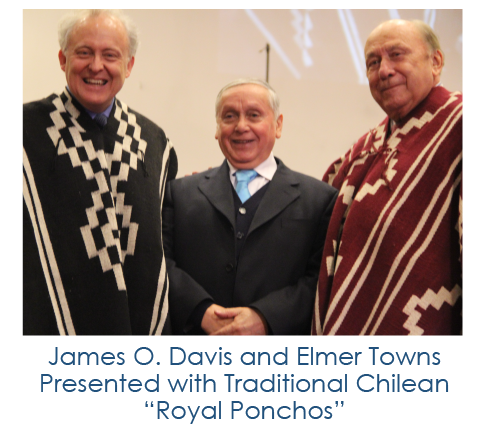 On one occasion, Jesus said, "If anyone is thirsty, let him come unto me and drink. And, he that believes in me, as the Scripture has said, 'Out of his innermost being will flow a river of living water" (John 7:38-39). Please note carefully that Jesus did not say, "If anyone is empty." He said, "If anyone is thirsty." There is a huge difference between emptiness and thirstiness. It is possible for one to be empty and not thirsty. Where the Church has lost its thirstiness, it has also lost its "river of living water" in a barren and dry world. The level of our satisfaction is
determined by the level of our thirstiness. Think about this stark reality.
On the one-hand, where the people are empty but not thirsty, their churches are empty as well. Attendance is down, not up. Evangelism is dying or dead. Altars are replaced or rarely used. Giving is drying up. The Bible is hardly opened. Eternity is rarely mentioned. Prayer opportunities are few. Revival has become a thing of the past and spiritual-renewal services are poorly attended.
On the other hand, where the people are thirsty and drink, church attendance is up, not down. Evangelism is everyone's responsibility and Jesus is known in the marketplace. Altars are filled with people coming to Christ. The Bible is read so much that the pages are worn out. Hell and heaven are constantly on the minds of the people. Prayer opportunities are many. The river of revival continues to flow through the region, bringing healing wherever it goes!
For more than one-hundred years, the Jotabeche Pentecostal Methodist Church has experienced a mighty revival and there are no signs of it slowing down! At the close of the final Sunday evening service, Bishop Duran presented to Dr. Towns and me special gifts, including "royal ponchos". May our Lord grant us a sweeping, weeping and reaping revival in the Western World in the years to come. It all begins with "thirstiness" in our hearts. I don't know how much of the Lord you have, but you have just as much as you want.
Until The Last Person Has Heard,


Dr. James O. Davis
Cofounder / Billion Soul Network
Cochair / Global Networking