A Special Report: The Finish Line Summit In Northern India!
September 4, 2014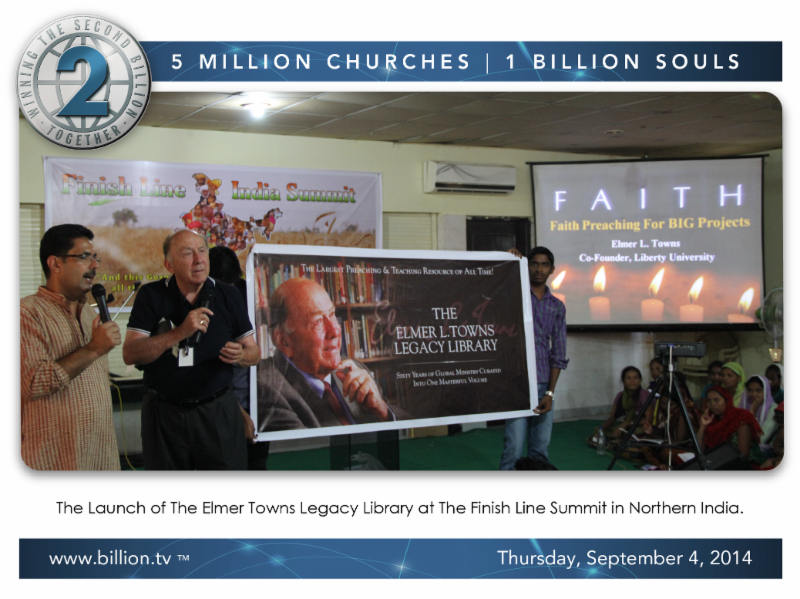 Dear Visionary Leader:
We are synergizing this week with Dr. Alex Abraham, CoChair/Unreached People Groups of the Billion Soul Network and Founder of Operation Agape, in Northern India. In 2009, Dr. Abraham and I cofounded The Finish Line Summit. This year, approximately 800 pastors/leaders have come together from 197 unreached people groups. This is a record attendance for us! We have heard tremendous testimonies of church planting and salvations from throughout the region.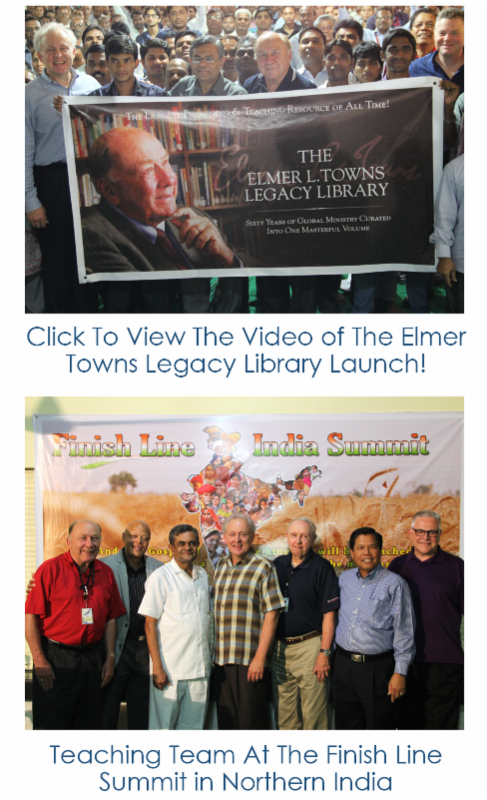 During our time in Northern and Southern India, two powerful HUBS will be launched with 1,500 pastors/leaders attending them. A HUB synergizes the best relationships, systematizes the best training and strategizes for unreached people groups. In 24 months, pastors/leaders will be taught the Global Church Training Curriculum (top 30 courses of the Global Church Learning Center) and will be empowered to start a HUB in their regional community. The national goal throughout India is 130 HUBS, representing the 1.3 billion population.
The teaching team for The Finish Line 2014 is:
Calvin Tibbs, Kingdom Dominion Church, Georgia, USA
Alex Abraham, Operation Agape, India
Peter Conforti, Full Gospel Church, New York, USA
Elmer Towns, Liberty University, Virginia, USA
David Sobrepena, Word of Hope, Philippines
Mark Morrow, Crossroads Community Church, Virginia, USA
James O. Davis, Billion Soul Network, Florida, USA
John Ed Mathison, John Ed Mathison Leadership, Alabama, USA
We continue to witness the mission field becoming a mission force. In the future, the largest Christian community in the world will be in India!

THE ELMER TOWNS LEGACY LIBRARY: Reserve Yours Today!
The Elmer Towns Legacy Library was launched first in Northern and Southern India. It consists of more than 200 books, 700 hours of video and audio training, hundreds of sermons, scores of pastoral training resource series, commentaries on every Bible book, under-graduate and graduate courses, handwritten Bible notes, and much more!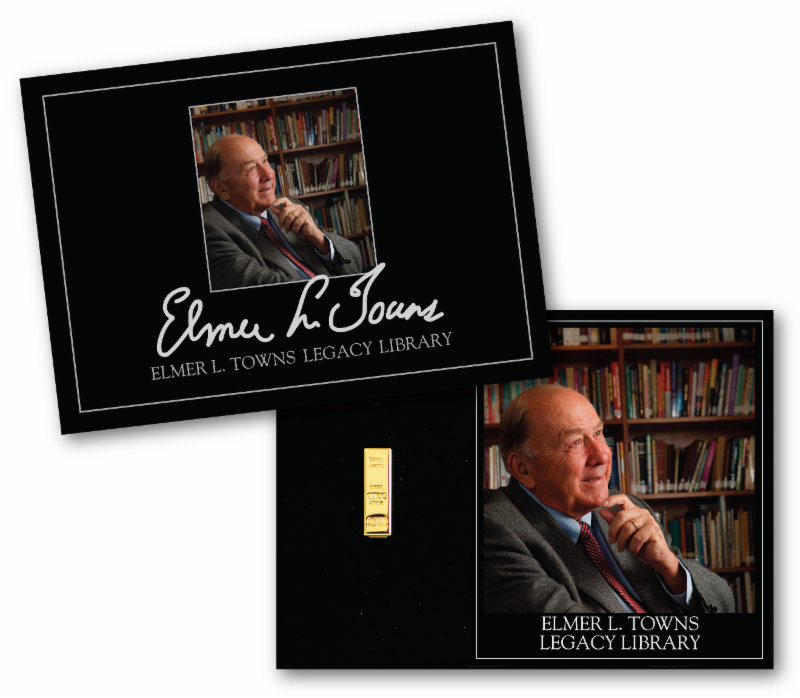 The Elmer Towns Legacy Library is limited to:
Liberty University Edition (300 Copies)
Thomas Road Baptist Church Edition (150 Copies)
Seminaries & Bible Colleges Edition (100 Copies)
International Edition (250 copies)
Billion Soul Network Edition (250 Copies)
The Elmer Towns Legacy Library is available on a first-come-first-serve basis. To order, call 417-353-8000. All funds from the sales will be be invested into church planting worldwide.
WE ARE THE CHURCH: THE UNTOLD STORY OF GOD'S GLOBAL AWAKENING
We Are The Church by Leonard Sweet and James O. Davis was released at the Billion Soul Summit in Jakarta, Indonesia. This global book officially made its debut in Indonesia before in the United States. Jack Hayford states, We Are the Church makes revolutionary and powerful statements we all need to hear and lessons that need to become fixed in our minds, so as to ensure the impact of the Church for the future. As we move forward together in the mission that God has for all of us, there can be no doubt that if the Great Commission is ever to be realized in any generation to come, it will take the collective Body of Christ to fulfill it.
Click here to secure your copy today!

Several weeks ago, we began a series entitled, "Recovering The Cutting Edge." In 2 Kings 6:5-7, there is a dynamic story about a young prophet who lost his axehead into the Jordan River. In order to recover the cutting-edge, we have previously learned that we need to Admit Its Loss and Acknowledge Its Loan. The young prophet had to admit that the cutting-edge was gone and that it had been loaned to him to accomplish a great job.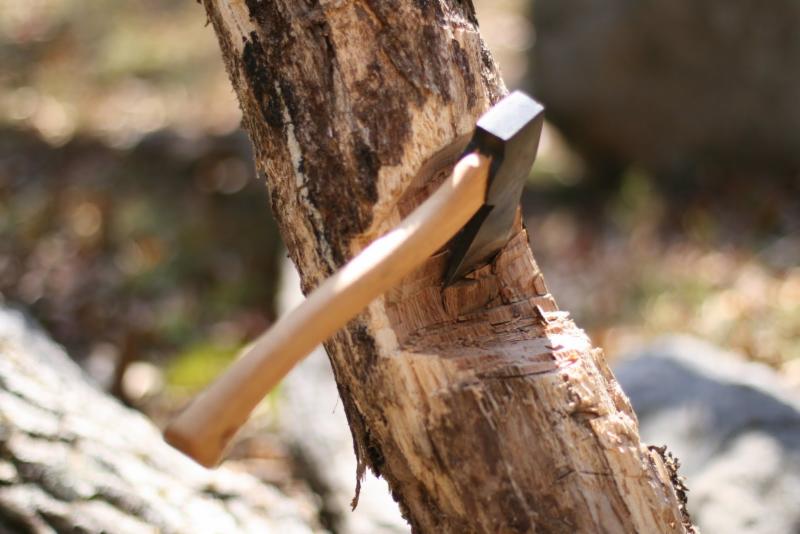 The third step is to Affirm Its Locality. Elisha asked, "Where did you lose it?". Why do suppose Elisha asked this question? The reason Elisha asked where the axehead was is because the place where one has lost it is the same place where he/she will get it back. Do you have the cutting-edge in your ministry or life? If you have lost it, then the place where you lost it, is the same place where you will recover it again. I encourage you to sharpen your spiritual edge in the weeks ahead. The Lord has called each of us to serve in the power of the Holy Spirit.
During The Finish Line Summit in Northern India, we heard story after story of pastors and leaders serving with the cutting-edge in their lives and ministries. There are some places in the world, where people have less and they do more and other people who have more but do less with the Lord. It is not what a person holds in his/her hand, but it is what the Lord has placed in our hearts that will ultimately bring transformation to our communities. The level of our response will determine the level of our results! Blessings.
Until The Last Person Has Heard,


Dr. James O. Davis
Cofounder / Billion Soul Network
Cochair / Global Networking