The Jerusalem HUB Of Global Christianity. Read it Today!
December 12, 2014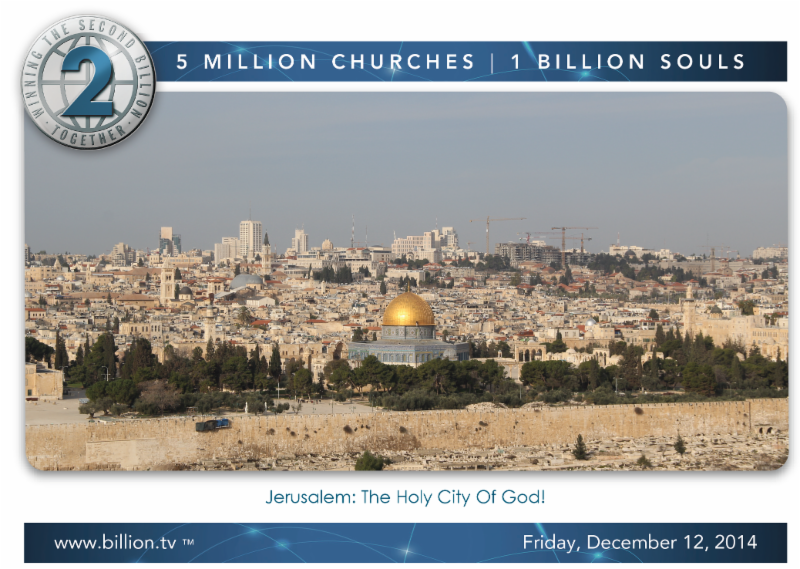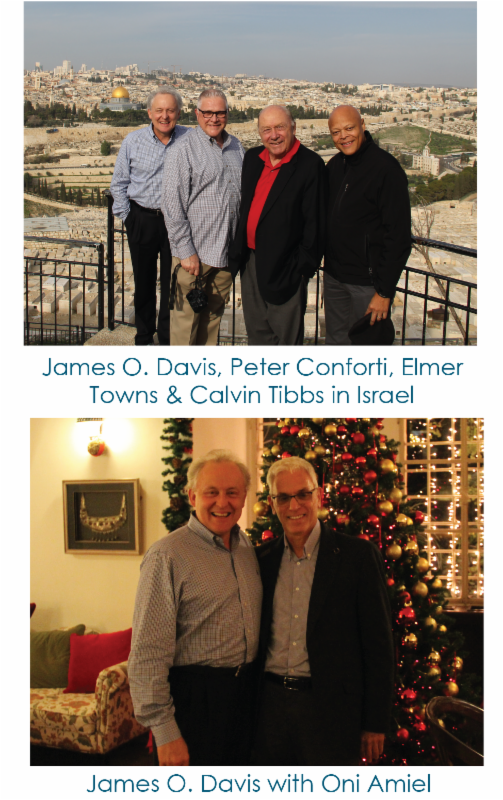 Dear Visionary Leader,
This week strategic, networking plans are underway to launch the Jerusalem HUB of Global Christianity in the fall of 2015. Significant leaders met from the United States and Israel to synergize their thinking for the future. Among some of these visionary leaders included, Timothy Hill, Church of God World Missions Director, Elmer Towns, Cofounder of Liberty University and CoChair/Dean Global Church Learning Center, Peter Conforti, Senior Pastor of Full Gospel Church, Long Island, New York, Calvin Tibbs, Founding Pastor of Kingdom Dominion Church, Atlanta area, Georgia and James O. Davis, Cofounder/ CoChair/Global Networking of the Billion Soul Network. Additional Israeli leaders have intentionally been left nameless at this time.
Wayne Lawthorn, President of Fellowship Travel, in Richmond, Virginia, and Oni Amiel, President of Amiel Travel in Tel Aviv, Israel, have provided phenomenal leadership for the travel arrangements and accommodations for this initial planning summit. Wayne and Oni have been working together for ten years. Fellowship Travel is the travel agency of choice of the Billion Soul Network. Be sure to check it out at www.fellowship.com!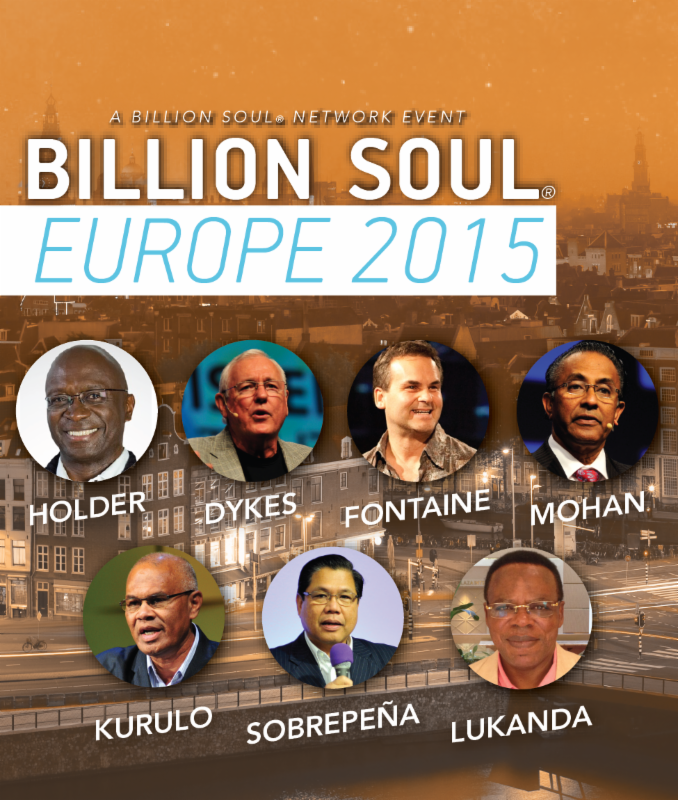 BILLION SOUL EUROPE: JUNE 11-12, 2015, AMSTERDAM
We encourage you to join key pastors/leaders from throughout Europe in Amsterdam on June 11-12, 2015. Pastors and leaders are coming together to synergize their efforts in evangelism, discipleship and church planting.
At this summit, you will learn from key pastors from around the world and discover how to apply their principles of church growth to your local community or city. The registration cost is ONLY 100 Euro per person. Registration is available on a first-come-first-serve basis. When 350 pastors and leaders have registered, then the conference will be considered full. Don't delay! Visit www.Europe2015.tv and register today!
The North American Roundtable On Biblical Preaching: Live Online!
The North American Roundtable On Biblical Preaching has been sold-out since August, 2014. Dr. Kenneth Ulmer, Senior Pastor of Faithful Central Bible Church, Dr. Mark Williams, General Overseer for the Church of God, and Dr. James O. Davis will be the featured teachers this year. Register for the Roundtable Live Online for just $59! You will be able to interact during all teaching sessions and will receive a copy of all of the lecture notes! Don't miss your opportunity to be a part of something incredible! MAKE PLANS to view this outstanding preaching roundtable online! Visit www.preach.tv today!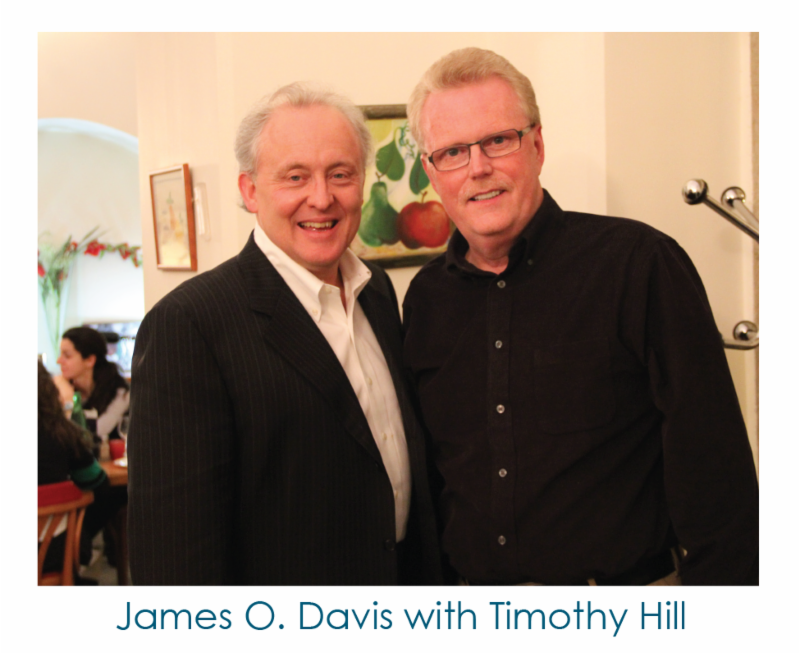 Timothy Hill and I would like to take this opportunity to invite you to consider joining us for the Jerusalem HUB Launch in December, 2015. We expect hundreds of pastors and leaders to converge in the Holy Land from around the world. During this HUB launch we will hear some of the finest teaching in the areas of Leadership Development, Global Missions, Evangelism/ Discipleship, Church Multiplication and Visionary Networking. Fellowship Travel and Amiel Travel will be providing excellent leadership for travel, accommodations and Holy Land tours. More information will be forthcoming in the weeks ahead!
Recently, Dr. Hill taped his course for the Global Church Learning Center (www.GCLC.tv) and it will be released in the first-half of 2015. Presently, there are nearly ninety courses in the GCLC with two to three new courses being added each month. I encourage you check out the GCLC today and become a member! In the near future, major updates and changes will be shown in the learning environment, that is considered by many as state-of-the-art for pastors and leaders worldwide. We expect to have at least 50,000 members by March, 2015. I encourage you to invest into yourself and have the greatest harvest ever in your life! Blessings
Until The Last Person Has Heard,


Dr. James O. Davis
Cofounder / Billion Soul Network
Cochair / Global Networking