Dr. Mark Williams Receives The 2015 Global Synergize Award!
January 27, 2015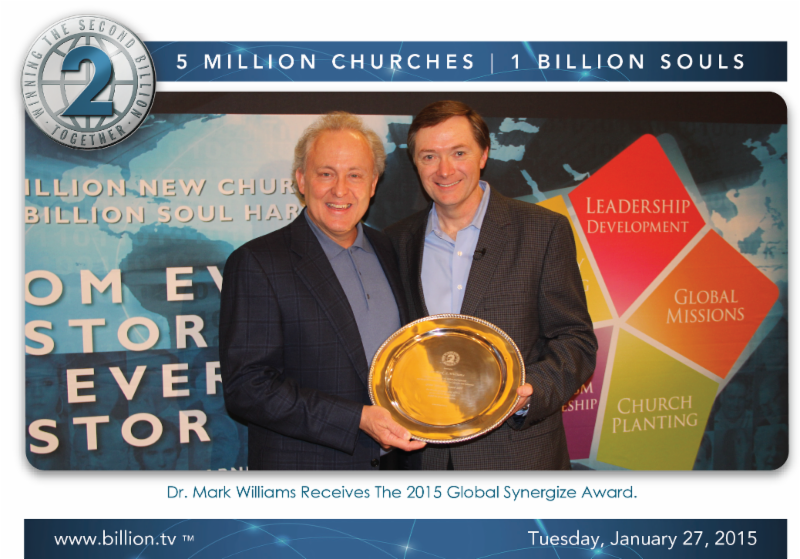 Dear Visionary Leader:
During last week's North American Roundtable On Biblical Preaching in Melbourne, Florida, Dr. Mark Williams, General Superintendent of the Church of God (Cleveland, TN), received the Global Synergize Award for 2015 from the Billion Soul Network. Each year, the Billion Soul Network, comprising more than 2,000 Christian organizations and 475,000 churches from every nation, recognizes two synergistic leaders who have demonstrated a synergistic leadership across denominational lines toward the fulfillment of the Great Commission.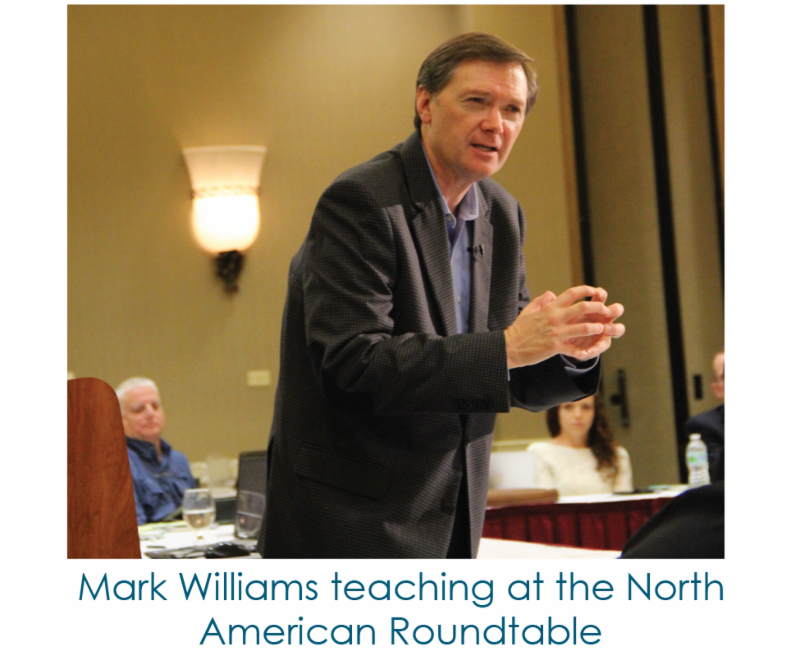 Dr. Williams continues to demonstrate a visionary life and synergistic mindset to move past egos and logos for the finishing the Great Commission in the 21st Century. His heart brings a biblical realism that fellow-leaders, from different Evangelical and Pentecostal streams, can add compounding value to one another so the entire world can experience the glorious Gospel. Presently the Church of God consist of more than 30,000 ministers, nearly 7 million members in 176 nations.
In previous years, the Global Synergize Award has been presented to Dr. David Mohan, Founding Pastor of New Life Assembly, Chennai, India; Dr. Glenn Burris, President of The Foursquare Church, Los Angeles, California; Dr. George Wood, General Superintendent of the Assemblies of God, Springfield, Missouri; Dr. Alex Mitala, Chairman Emeritus of the New Birth Fellowship, Kampala, Uganda; Dr. Alex Tanuseputra, Founding Pastor of Bethany Church, Surabaya Indonesia, Dr. Doug Beacham, Presiding Bishop of the International Pentecostal Holiness Church, Oklahoma City, Oklahoma and Dr. Ademola Ishola, President Emeritus of the Nigerian Baptist Convention, Abuja, Nigeria.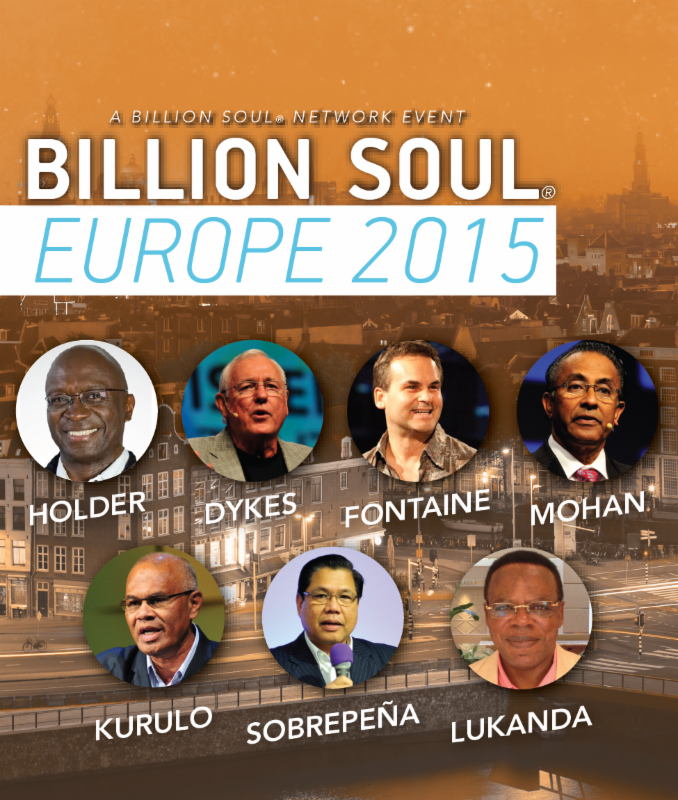 BILLION SOUL EUROPE: JUNE 11-12, 2015, AMSTERDAM
We encourage you to join key pastors/leaders from throughout Europe in Amsterdam on June 11-12, 2015. Pastors and leaders are coming together to synergize their efforts in evangelism, discipleship and church planting.
At this summit, you will learn from key pastors from around the world and discover how to apply their principles of church growth to your local community or city. The registration cost is ONLY 100 Euro per person. Registration is available on a first-come-first-serve basis. When 350 pastors and leaders have registered, then the conference will be considered full. Don't delay! Visit www.Europe2015.tv and register today!

During the recent North American Roundtable on Biblical Preaching, we were fortunate to have pastors and leaders from Pakistan, Nigeria, Bahamas, British Virgin Islands, England, Canada and the United States. Everywhere I have traveled in recent years, I have witnessed firsthand the Holy Spirit whispering to pastors and leaders about crossing traditional and denominational lines for the fulfillment of the Great Commission. In the early days of BSN, it began with two leaders, one from Presbyterianism and the other Pentecostalism. Today, there are more than 2,000 Christian organizations and 475,000 churches synergizing their efforts together to help double the size of the Global Church and wrap up the Great Commission in this generation.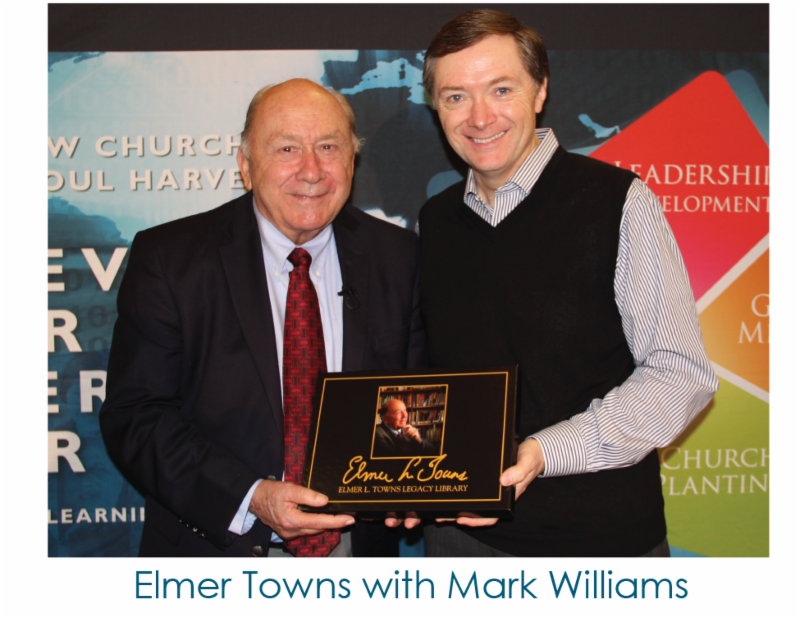 I first met in Dr. Elmer Towns, Cofounder of Liberty University in 1996 in Los Angeles, California. Dr. Towns and I were serving on the Amsterdam 2000 Executive Committee. For three years, we labored together, along with other key leaders from many different denominations. It was during our first committee meeting that Dr. Towns befriended me and we have been friends ever since. Amsterdam 2000 convened in the summer of the year 2000, with nearly 12,000 pastors, evangelists and leaders coming from 217 nations.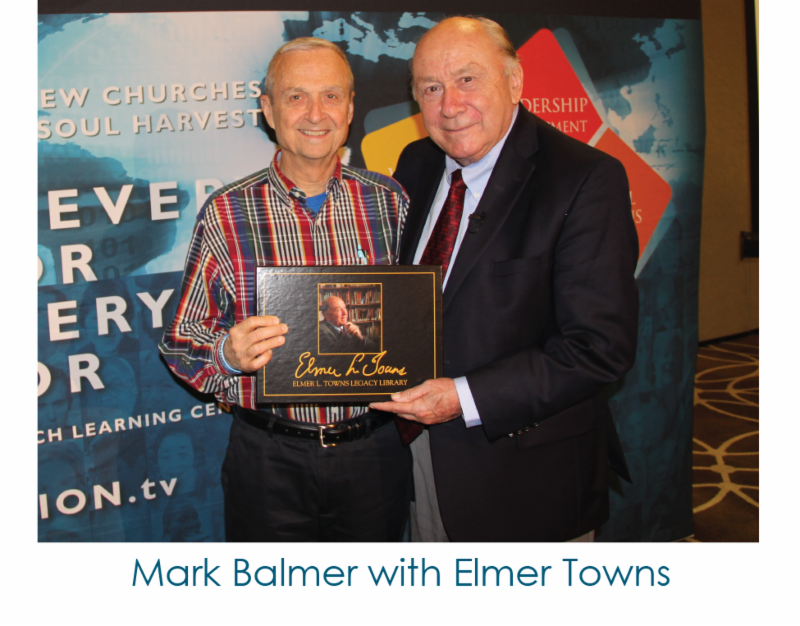 Dr. Towns is one of the most remarkable leaders of the 20th and 21st centuries. His teaching, preaching and training have instructed ten of thousands of leaders and inspired millions more. He is the most itemized person I have ever met in my life. During the North America Roundtable On Biblical Preaching, Dr. Towns personally presented the Elmer Towns Legacy Library to Dr. Mark Williams and to Rev Mark Balmer. Dr. Williams, as indicated above, serves as the General Overseer of the Church of God. Pastor Mark Balmer planted Calvary Chapel of Melbourne, Florida, 22 years ago. Today, his church averages between 10,000 to 12,000 people each weekend. Both of these leaders are phenomenal Bible teachers in the Body of Christ.
One of the greatest investments you can make is the sowing of resources into yourself and ministry. Our ministry will grow in direct proportion as to how much we grow. I encourage you to purchase the Elmer Towns Legacy Library (www.ETLL.tv) today. When you purchase your Elmer Towns Legacy Library, Dr. Towns will also give a copy to a Bible College, Bible Institute or Seminary in the world. There are only limited number of the Elmer Towns Legacy Libraries left. Be sure to get yours before they are gone!
These are the greatest days of networking, evangelism and multiplication in the history of the Church. I look forward to seeing you in the winner's circle. Blessings.
Until The Last Person Has Heard,


Dr. James O. Davis
Cofounder / Billion Soul Network
Cochair / Global Networking