Your Invited To Join Bobby Schuller & Kathy Branzell Via Zoom
March 6, 2023
We are grateful for the continual growth of the Global Church Network. We are ramping up for Synergize 2024 scheduled for February 14-16, 2024, in Orlando, Florida.
On March 30, 2023, we will be hosting a Synergize 2024 Zoom Call at 11:00 am Eastern Time. We are honored to have Bobby Schuller and Kathy Branzell join us live for this Zoom Call.
Meeting ID: 811 0391 4286
Passcode: SYNERGIZE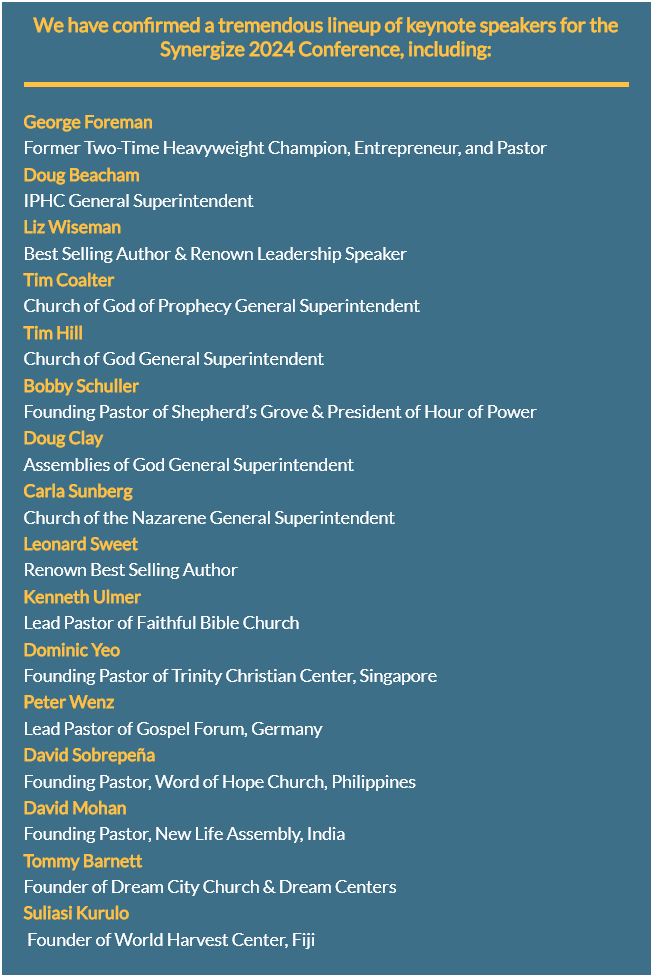 In addition to the speaker roster above, Synergize 2024 will have 20 Powerful Breakout Sessions. As to Praise & Worship, the World Harvest Center Ensemble & Choir from Fiji and The Voices of Lee from Lee University, will lead us in sacred times of renewal.
I write to invite you to join us for this exciting Synergize 2024 Zoom Meeting. During the Zoom call we will receive an inspirational message from Bobby Schuller and Kathy Branzell and I will share some exciting updates about Synergize 2024. You will not want to miss this!
If you can join us on this Zoom call on March 30 at 11:00 am Eastern, can you do three things for us?  
Email Kylie Harris (Kylie@gcnw.tv) and advise her of your ability to be on the Synergize Ambassadors Leadership Intensive call. That way, we can add you to the growing list of leaders who have committed to join us. We will keep you updated and send you an email before the call with specific instructions on connecting via Zoom.
Mark this date and time on your calendar: March 30, 2023, at 11:00 AM Eastern 
Please reach out to one or two more key leaders and invite him/her to join us, and let Kylie Harris know of the leader's name so we can ensure they have access to this exclusive meeting.
We do hope that you can join us on this important Zoom call! We look forward to hearing from you. Blessings!