Global Trademarks & Copyrights Exist For All Resources.  Permission Required to Copy And Distribute.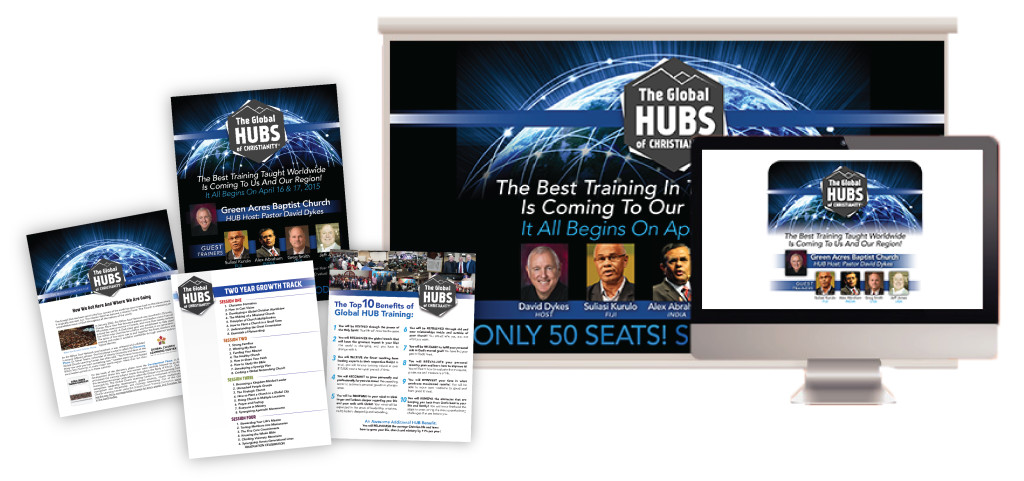 Thank you for partnering in The Global Hubs Of Christianity! This page contains all the resources you will need to advertise for your upcoming HUB launch and training sessions. Simply click on a file to download. We have provided both Microsoft Word templates, Powerpoint Templates and Adobe Illustrator files. Please use the templates that work best for your church.
Global HUBS Logo | Trainer Image Bundle  |  Supporting Fonts & Images
HUB Flyer (.doc)  | HUB Flyer Template (.ai)
HUB Standard Slide (.ppt)  | HUB Standard Slide Template (.ai)
HUB Widescreen Slide (.ppt)  | HUB Widescreen Slide Template (.ai)
HUB Website Splash Page Template (.ai)   |   Global HUBS of Christianity Overview (.pdf)
Customizable Invitation Letter (.doc)  |  HUB Letterhead Template  (.doc)
Top Ten Benefits (.pdf)  |  Two Year Growth Track Outline  (.pdf)
Frequently Asked Questions (.pdf)
Instructions:  To insert the proper photo for your location's host and trainers, download the "Trainer Bundle" and insert the trainers who will be at your HUB location. We have provided spaces on each template to feature photos of each individual. You may add/edit text boxes to the template to insert HUB trainer names, location, dates and any additional information you wish to communicate.
For Adobe Illustrator users: Please download the "Supporting Fonts & Images" bundle for the correct fonts and linked images in each .ai file.
Advertise Your Hub Online
We suggest dedicating a page of your church website to effectively advertise and build memberships at your Hub!
Hub Marketing Videos
Watch & download in Vimeo
Presenting The Global HUBS of Christianity
How To Market & Mobilize For A HUB
Top Ten Benefits Of HUB Training
Hub Training Videos
Watch & download in Vimeo
How To Teach A Course In A HUB
Billion Soul Network & Global HUBS of Christianity
Hub Curriculum
Student Editions: Session 1  |  Session 2  |  Session 3  |  Session 4
Teacher Editions: Session 1  |  Session 2  |  Session 3  |  Session 4
Powerpoint Presentations
Session 1:
How To Cast Vision (.ppt)  |  Developing A Global Christian Worldview (.ppt)
The Making Of A Missional Church (.ppt)  |  Understanding The Great Commission (.ppt)
Character Formation (.ppt)  |  Principles of Church Planting (.ppt)
Planting A Church In A Village (.ppt)  |  The Essentials of Networking (.ppt)
Session 2:
Crafting A Global Networked Church (.ppt)  | Funding The Mission (.ppt)
Strong Families (.ppt) | Winning My Race (.ppt)
Developing A Synergy Plan (.ppt) | The Healthy Church (.ppt)
How To Study The Bible (.ppt) | How To Share Your Faith (.ppt)
Session 3:
Becoming A Kingdom Minded Leader (.ppt)  |   Synergizing Apostolic Movements (.ppt)
Doing Church in Multiple Locations (.ppt)  | The Strategic Church (.ppt)
Everyone In Ministry (.ppt)  |  Prayer and Fasting (.ppt)
How To Plant A Church In A Global City (.ppt)  |  Unreached People Groups (.ppt)
Session 4:
How To Turn Your Members Into Missionaries (.ppt)  |  Stewarding Your Life's Mission (.ppt)
The Five Core Commitments (.ppt) | Synergizing Across Generational Lines (.ppt)
Knowing The Whole Bible (.ppt) | Climbing Visionary Mountains (.ppt)